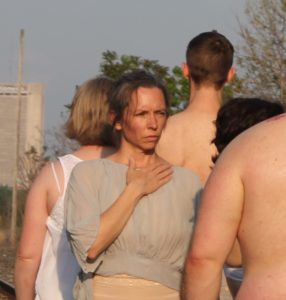 Eve Hermann studied visual and literary art at Indiana University. She has danced in Columbus since 2012 in works choreographed by CoCo Loupe, Nicole Garlando, Michael Morris, Christeen Stridsberg, and Jeff Fouch. She was a company member of Columbus Moving Company for the 2014-2015 season. From late 2013 to early 2016, she owned and operated Feverhead, a warehouse rehearsal and performance space in Columbus providing low-cost rentals for the performing arts, including: dance, theater, and music. In late 2016, she joined the SEA<>BUS Dance Company, an intra-continental dance company with members from Seattle, Columbus, Minneapolis and New York.
 PERFORMANCE
September 28 & 29, 2012, Feverhead, Columbus, OH
From One Foot To The Other: what was once digital is dead & now lives on as a dance

Choreographed by CoCo Loupe and They Might Be Dancers Too
Dancers: Zach Baird, Sharon Udoh, Leigh Lotocki, Karen Mozingo, Lindsay Caddle LaPointe, Noelle Chun, Nicole Garlando, Noah Demland, CoCo Loupe
---
March 15 & 16, 2013, Columbus Dance Theater, Columbus Dances Fellowship
May 25, 2013, Feverhead
LRC
Choreographed by Nicole Garlando
Performed with Jeff Fouch and Nicole Garlando
Structured improvisation
---
May 3 & 4, 2014, Short North Stage
Off the Wall: Dance on High Art
Columbus Moving Company production
Guest choreographer Nicole Garlando
-inspired by Roberto Diago's "Untitled, 2011"
Emma Frankart, Kerry Farrell, Scott Kaltenbaugh, Amy Kato, Jessica Gore, Sharon Udoh, Justin Fitch, Jen Duane, Eve Hermann
---
July 11 & 12, 2014, Short North Stage
Taking Place, Choreographic Residency Performance
:r//end/l//ent/e/r/ing//less/
Choreographer K.J. Holmes
Barbara Borges, Delia Constantino, Shannon Drake, Kerry Farrell, Nicole Garlando, Eve Hermann
---
October 24 & 25, 2014, Short North Stage
CMCo: Plays
The Color of Royalty, The Color of Me
Choreographed by Christeen Stridsberg
Inspired by From Sister to Mister, Heidi Madsen
Performed with Elena Caruthers, Leisa DeCarlo, Eve Hermann, Chelsea Riegle
---
March 27 & 28, 2015, Short North Stage
CMCo: Puppets
Choreographed by Jeff Fouch
Collaborative performance with Zoot Theatre Company, Dayton
Jeff Fouch, Eve Hermann, Josh Hines, Kelly Hurlburt, Jess Gore, Gabby Stefura, Christeen Stridsberg
Photos by Jerri Shafer
---
April 29 & 30, 2015, Ohio State University, Dance Department
Toward Belonging
Choreographed by Michael J. Morris
Performed by Phil Brown Dupont, Justin Fitch, Eve Hermann, Sharon Udoh
---
April 30, 2016, Cleveland, OH
How To Sit
Site-based public performance as part of Re|Marking
---
May 27 & 28, 2016, Columbus, OH
Torrence 6-36-86
Artistic Director: Rashana Perks Smith
Site-based, immersive dance/theater experience
Performances by John Giffin, Gina Jacobs Thomas, Michael J Morris, Megan Yankee, Megan Davis, Eve Hermann, Sara Shulman, Alexia Minton, Jeremy Griffin-Jackson, Coal Rietenback
Interactive Video Installations: Matt Lewis
Window Installations: Melissa Vogley Woods
Lighting Design: Carolyn Cox
Sound Design: John Osburn
---
March 17 & 18, 2017
Playher, a performance for Ten Tiny Dances, Columbus, OH
Conceived/Choreographed by Josh Hines
Performed by Megan Davis Bushway, Eve Hermann, Josh Hines, Kelly Hurlburt, Hana Newfeld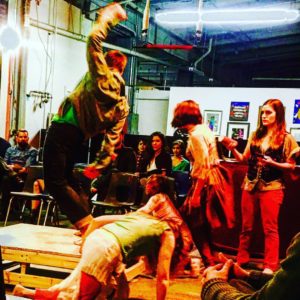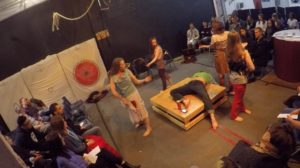 ---
June 8-19, 2017
 Seattle residency and performance with SEA<>BUS Dance Company 
---
PRODUCTION / DIRECTION
Taking Place, A Choreographic Residency at the Short North Stage, July 1-13, 2014.
Marketing, sales, scheduling, transportation, backstage management
Two weeks of workshops with choreographers: K.J. Holmes, Peter Kyle, CoCo Loupe, Bebe Miller, and Claire Porter.
Special events coordinated included: VIP Dance Party and culminating performance of works created by choreographers with workshop attendees at the Garden Theater.
Funded by Greater Columbus Arts Council and donations from the community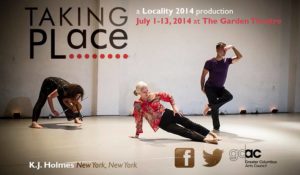 ---
Love, Magic: A multidisciplinary exploration of a theme, Feverhead, February 13, 2015.
Directed, coordinated and staged event
Marketing, scheduling and arranging
Painters, zinesters, ceramic artists, musicians and dancers gathered for an evening exploring interpretations of Love, Magic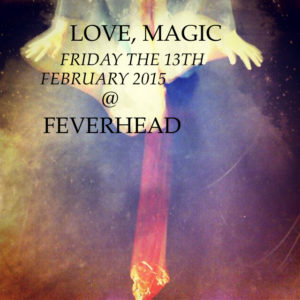 Jan Avende: performing all original compositions on acoustic guitar
Glory Hole is Jason Carl Crase &  Phil Brown Dupont: witty and biting love songs from the early-to-mid 20th century songbook, with Jason singing and Phil accompanying on piano.
Bloodthirsty Virgins is Scott Gorsuch and Nikki Wonder: guitar slinging duo singing songs of love and revenge, Western-movie style
Waist High & Elbow Deep: nurture
Facilitation & Writing by MeganPitcher
Performers: Lindsay Phillips, Megan Pitcher, and Guests
MegLouise
* special thanks to Lilly Handmade Chocolate
DANCE/VIDEO/PERCUSSION PERFORMANCES 8:30pm-9:36pm
Title: Delivery
Choreographer: Anna Brown Massey
Performers: Us
Music: Andy Gallagher
Title: ABCDABRA
Choreographers and Performers: Leigh Lotocki and Sharon Udoh
Music: H.S.K.T. by Sylvan Esso
Title: You Can Be Plural and Maybe You Might
Choreographer and Performer: Michael J. Morris
Music: Say You Love Me by Jessie Ware
Title: Pinsel (film)
Created by: Jess Cavender
A filmic meditation on the choreographed painting process
Title: bus people (video)
Created by: Nicole Garlando
Featuring: CoCo Loupe
Title: 1, two, many
Choreographer and Performer: Nicole Garlando
Performer: Mihwa Koo
Title: Pacing 45
Choreographer and Performer- Rashana Smith
Music: "Catalog" by The Octopus Project
Title: The Trulie Awesome Show: A Letter Penned
Choreographer and Performer: Trulie Scrumptious
Music: Totalie Awesome
Title: one or more (percussion)
Performer: Noah Demland + friends: justin fitch, nicole garlando, melanie holm, leigh lotocki, michael morris, sharon udoh, tanya bils